Osteopathy is a safe and natural therapy that focuses on the framework of the body: the bones, ligaments, muscles, and connective tissues or fascia. Osteopaths assess the condition of the musculoskeletal system, looking for areas of weakness, imbalance or excessive strain. Any potential 'weak points' will determine how well the body functions and will have a direct influence on the general health of the body.
The Osteopathic philosophy is summarized in one simple statement: "The body is a unit." The goal of the osteopath is to find the source of the problem and treat the cause.
For example, a patient's lower back pain may, in fact, be rooted in poor foot mechanics. The problem in the foot can lead to altered movement further up the chain — at the knee, hip, and lumbar spine, driving lower back pain. Instead of just looking at the low back, an osteopath will work to find the root of the pain, rather than just treating the localized symptoms.
What Does an Osteopath Do?
Although our osteopaths are trained to deal with a multitude of musculoskeletal disorders, they are also equipped to address some lesser-known conditions including:
TMJ (Jaw) Pain

Digestive Disorders

Conditions Related to Pregnancy

Repetitive Strain (Musicians, Mechanics, etc.)

The Mechanical Effects of Respiratory Disorders (Asthma)

Stress and Tension Headaches
During your first visit at our clinic, an osteopath will typically conduct a thorough case history and physical examination, which consists of observation, range of motion testing, and orthopedic assessment — and may involve cardiovascular, respiratory and neurological tests depending on the presenting symptoms. Afterward, they will review any other relevant medical reports (medical imaging, blood work etc.) relating to the patient's health to understand the diagnosis fully.
Once the diagnosis has been reached and identification of pain triggers have been established, our osteopaths will work with you on both exercises and daily life modifications to treat the condition. Our osteopaths are trained to use a wide range of tools such as:
Acupuncture

to reduce localized pain.

Craniosacral therapy

to balance the nervous system.

Joint mobilization

(referred to commonly as adjustments) to improve range of motion.

Cupping therapy

to assist in circulation and reducing inflammation — you might have seen the effects of this on Michael Phelps during the 2016 Olympics!

Graston technique

(instrument-assisted soft tissue therapy) to reduce scar tissue and resulting tissue tension.

Diet & nutrition recommendations

to help speed up recovery time.
What Do Osteopaths Treat?
Our osteopaths treat a wide range of health issues, which include (but are not limited to) the following common conditions:
Sciatica

Back pain

Shoulder pain

Wrist pain

Tennis elbow

Plantar fasciitis

Achilles tendonitis

Concussion

Stress, tension and anxiety
Our Osteopath
At Shift, our Osteopath Scott has undergone extensive training and additional professional development.
---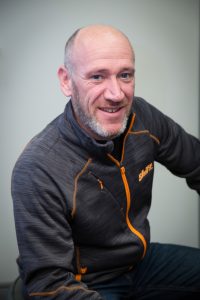 Scott Haller is the founder of the Shift Concussion Management Program, and is naturally drawn to the treatment of concussions, head injuries, headaches, and sports-related injuries. He has worked with several professional athletes over the years making his resume a unique one. Scott also has great success treating a variety of pre and post-natal conditions and orthopedic injuries. 
---
A common misconception surrounding osteopathy is that it is not covered under most benefit plans. Many extended and family plans do cover osteopathy, along with other rehabilitation services such as chiropractic and physiotherapy. Just another reason why you should consider an osteopath as part of your pain management routine!
Interested in scheduling an osteopathic consultation? Call us today at 519-822-2226 or send us an email.