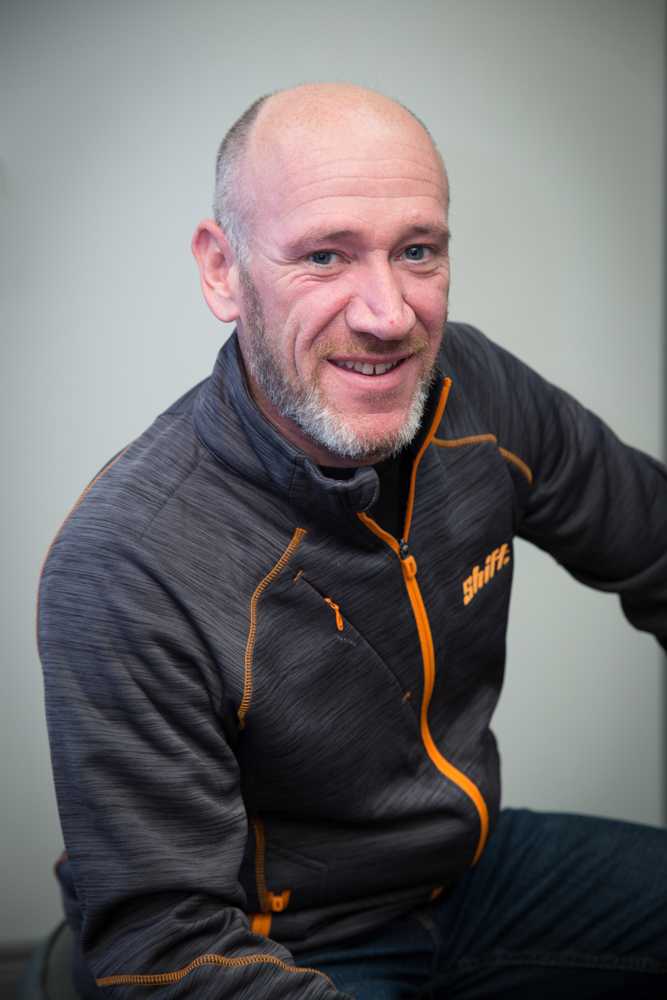 Scott Haller, Osteopathic Manual Practitioner, AC, RMT
OWNER, OSTEOPATHIC MANUAL PRACTITIONER
PRESIDENT, SHIFT CONCUSSION MANAGEMENT PROGRAM
Since earning his degree in Osteopathic Manipulation at the Canadian Academy of Osteopathy and Holistic Health Science in 2004, Scott has earned a reputation in his field that is second to none. Early in his career, Scott joined the medical rehabilitation staff of both the NHL's Edmonton Oilers and their affiliate team, the Hamilton Bulldogs - an experience that has paved the way for a successful and fulfilling career in sports injury management.
Scott has always been extremely passionate about delivering the highest quality of care to his patients – particularly those suffering from concussion and post concussion syndrome. It is that same passion that inspired him to develop The Shift Concussion Management Program – an education and training platform providing Healthcare Practitioners throughout Canada with evidence-informed concussion assessment and rehabilitation strategies for patients suffering from mild traumatic brain injury.
Scott has received diverse training and mentoring over the course of his career. He is certified in vestibular assessment and therapeutic techniques out of Atlanta, Georgia, has spent time shadowing in Pittsburgh, PA under internationally renowned Neuropsychologist Dr. Michael "Micky" Collins, and has significant experience with numerous treatment techniques from generalized osteopathic treatment, craniosacral therapy, and acupuncture.
In addition to balancing a busy schedule at his Guelph concussion clinic, Scott lends his time speaking to sports organizations, hospitals, schools, and medical clinics throughout the province on the topic of concussion management.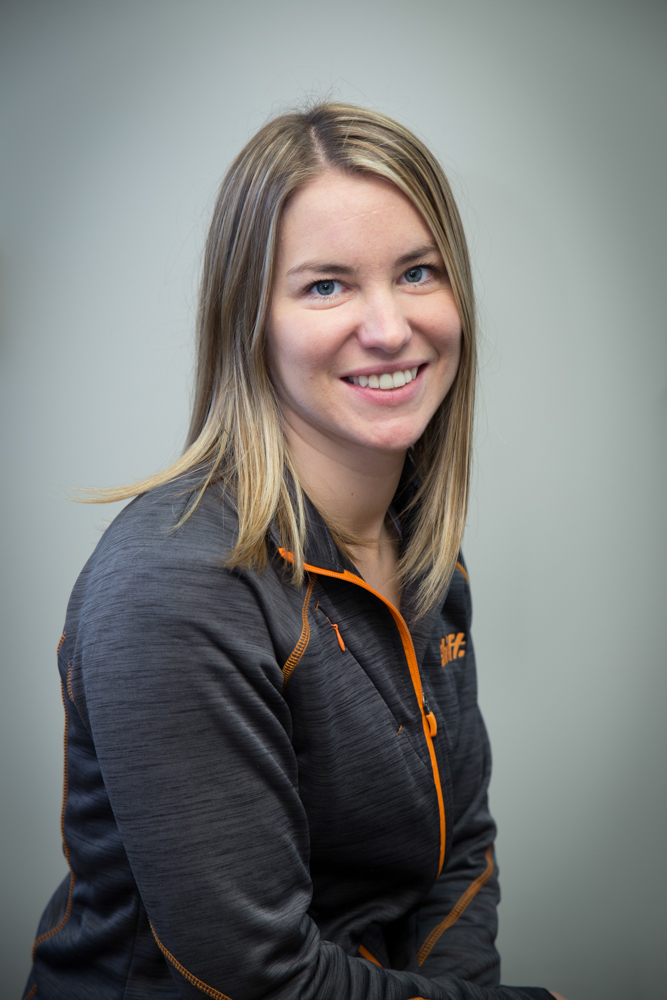 Dr. Kailin Walter, BSc(Hons), DC
CHIROPRACTOR
Kailin completed her Bachelor of Science in Human Kinetics from the University of Guelph in 2006. After receiving treatment for numerous sports injuries suffered in competition, she was inspired to pursue her Doctorate of Chiropractic (DC) at the Canadian Memorial Chiropractic College in Toronto. She graduated with top honours, and completed additional certifications in Graston Technique ® (an instrument-assisted soft tissue therapy treatment method), and Contemporary Medical Acupuncture (McMaster University). Kailin subscribes to an interdisciplinary model of healthcare, and integrates the latest evidence based practices into her therapeutic approach.
Kailin has been instrumental in the development and delivery of the Shift Concussion Management Program in Ontario, and serves as a clinician and instructor alongside President, Scott Haller. She has undergone significant training in concussion rehabilitation concepts with particular emphasis in the area of vestibulo-ocular disorders in post-concussion syndrome. She has lectured at numerous concussion seminars with Shift Concussion throughout Canada and strives to continually stay abreast of the research in the field. Her patient-centered and evidence-based approach to clinical practice is highly regarded at Shift Concussion Management amongst patients and staff.
Sheri Moss, BSc(Kin), MSc., PT
REGISTERED PHYSIOTHERAPIST
Sheri completed her Bachelor of Science in Kinesiology in 2007 from York University. While at York University she discovered a passion for the human brain and entered into a second Bachelor degree in Psychology. After completing her time at university, Sheri worked as a Kinesiologist for 2 years in a large orthopaedic clinic. In 2009 she returned to university to further her education and decided this was a great opportunity to broaden her horizons and move to another country. Sheri graduated with a Master of Science degree in Physiotherapy at Queen Margaret University in Edinburgh, Scotland in 2011.
After graduation she spent 3 years working with patients with acquired brain injuries and in 2014 she was trained as a SHIFT concussion therapist. In March 2017 Sheri completed Emory University's Vestibular Rehabilitation Course in Atlanta, Georgia. Sheri finds working with concussion and vestibular patients to be both fascinating and rewarding.
Sheri also has experience treating patients who have sustained sports injuries, motor vehicle accidents, workplace injuries, chronic musculoskeletal impairments, neurological conditions, pre and post-surgical conditions and many more orthopaedic conditions. She utilizes soft tissue techniques, joint and neural mobilizations, exercise, cupping, modalities, and patient education, in providing evidence-based care.
When Sheri is not at the clinic she enjoys spending time outdoors with her friends, family and her new puppy.
Keira Stroyan, BA(Kin), MSc.,PT
REGISTERED PHYSIOTHERAPIST
Keira obtained her Master of Science degree in Physiotherapy at McMaster University, and previously a Bachelor of Arts (Honours) in Kinesiology at Brock University. As a former women's fast-ball player, she understands the importance of treating and preventing injuries from a personal level.
Keira's drive to help others coupled with her passion for sports and athletics has built the foundation of her career as a physiotherapist. Her treatment plans incorporate a combination of hands-on techniques, education and exercise prescription to reduce pain and optimize function. She offers additional skills and knowledge in acupuncture and concussion management.
Keira believes her role is to work with you to create a treatment plan that is specific to your needs and lifestyle. Her goal is to maximize your recovery to return to your favourite sport, hobby or work and prevent the recurrence of injury.
If not in the clinic, you will likely see Keira playing baseball, curling or reading a good book.
Rachael Grafe, BSc(Kin), BAHSc(AT), R. Kin, CAT(C)
CERTIFIED ATHLETIC THERAPIST
As a Certified Athletic Therapist CAT(C), Rachael provides medical coverage for sporting events, orthopedic treatments in the clinic and/or works as a Strength and Conditioning Coach to enhance athletic performance.
In a clinical setting, Rachael performs a thorough assessment of any musculoskeletal injury and/or condition, looking for the root cause of the problem. She uses contemporary rehabilitative techniques, therapeutic modalities, soft tissue mobilization, physical reconditioning, and supportive strapping procedures to reduce pain, discomfort, and/or fatigue. She takes an active approach to rehabilitation, providing sport specific exercises and education, all in an effort to safely reintegrate an individual back into their sport or an active lifestyle as quickly as possible.
She draws her clinical practice from working in a variety of sports settings and teams, working with elite and world-class athletes, as well as, continually attending conferences and workshops. Prior to joining Shift, Rachael enjoyed working with the University of Guelph varsity teams, Rugby Canada, and The National Ballet of Canada. Rachael has worked with both Olympic and Paralympic athletes, ensuring they have a safe and successful season.
Joe Pendleton, MPK(kin), R.Kin, CSCS
REGISTERED KINESIOLOGIST
Joe received his Master of Professional Kinesiology from the University of Toronto in 2017 after completing his honours Bachelor of Science degree in Kinesiology from the University of Waterloo. During the completion of his MPK degree, Joe discovered the importance of concussion management strategies through working with varsity athletes and personally experiencing a concussion, forcing him to implement the strategies he practices. He is passionate about utilizing an evidence based and collaborative approach to care to ensure the best possible treatment is provided to all. As a Registered Kinesiologist Joe excels in using exercise as a form of rehabilitation and taking an active approach to care for all injuries, including concussion.
Prior to joining Shift, Joe has spent time working in other orthopedic based clinics and sports teams, where he has been exposed to a variety of clientele, from the general population to professional athletes as both a strength and conditioning coach and Kinesiologist. In his free time Joe now enjoys playing lacrosse and hockey, and spending time outside with friends and family.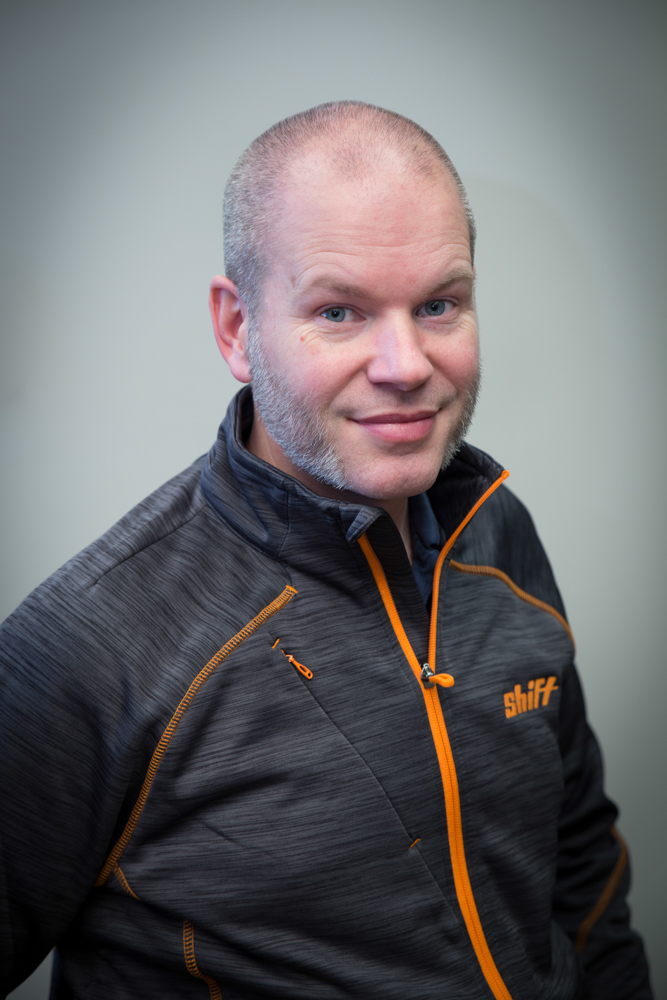 Michael Robinson, RMT
REGISTERED MASSAGE THERAPIST
When individuals experience aches and pains their quality of life can also suffer. Michael's passion is in helping turn people to that higher quality of living. He aids his clients (including adults of all ages, children and families) to their pain-free lifestyles.
He understands that no single approach is the right one for every individual and so he's trained in a range of modalities such as Neurofunctional (contemporary) Acupuncture (McMaster University) and Craniosacral Therapy (Upledger Institute).
His clinical background includes not only treating soft tissue conditions (strains and sprains), headaches, migraines, and stress, but also assisting those undergoing oncology, addictions and mental health treatments. Michael has been in professional practice since 2005.
Johanna Padalino, RMT
REGISTERED MASSAGE THERAPIST
Johanna is a Registered Massage Therapist. She completed the Fitness and Health Promotion Program at Humber College in 2012. She then went on to complete her Massage Certification at the Canadian College of Massage and Hydrotherapy which she graduated from in 2015. Johanna is currently enrolled at the Canadian College of Osteopathy and is proud to bring a part of her osteopathic knowledge to her current patients.
Johanna played competitive Ringette where she went to the Ontario Winter Games in 2007 and played in the National Ringette League from 2010-2012. She has been involved with Hockey teams since 2009 as a team Trainer. She worked with the Paris Mounties Junior C hockey team and is currently the Trainer and RMT for the Waterloo Wolves Minor Midget AAA team. This lead Johanna to understand the importance of rehabilitation and complex sports injuries.
When Johanna is not in the clinic, you can find her at the arena, studying or spending time with friends.
Katy Cournoyer
DIRECTOR OF BUSINESS DEVELOPMENT
Katy joined Shift Concussion Management in 2016 after shifting gears (pun intended) from Medical Imaging to Rehabilitation. She holds an Honours Bachelor Degree in Sociology from the University of Guelph and has always had a passion for helping others. Although often behind the scenes, Katy is responsible for our sales and marketing as well as ensuring our patient experience and overseeing clinical operations.
She brings with her 6 years of experience dealing in administration and marketing in the healthcare field that have made her an experienced and versatile member of our team.
When not at the office Katy can often be found reading a good book, volunteering with the Brain Injury Association of Waterloo/Wellington or getting tangled up at a hot yoga class.
Andrea Halladay
Administrative Assistant
A familiar face in the customer service industry in Guelph, Andrea comes from 19 years in the dental field and decided to make the career change to rehabilitation. With years of Administrative experience, Andrea has quickly become a versatile member of our team.
As a local to Guelph she is a familiar face to many. When not at the office, Andrea can be found with her family at ball hockey or dance or out for a walk with their dog Rocky.
Nadine LeBlanc
Administrative Assistant
Nadine joins us after a history working in the field of Medical Reception which include the Nova Scotia Health Authority. After moving from Nova Scotia earlier this year and joining the Shift team thereafter; Nadine has become a key member of our team.
In her spare time she enjoys spending quality time with family and friends.